The final specs for Quo Vadis have arrived!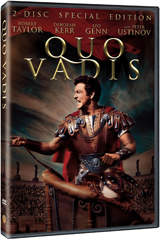 One of the films I personally have been awaiting most eagerly is finally making its DVD in November – the monumental biblical epic Quo Vadis.
Directed by Mervyn LeRoy and based on the Nobel Prize-winning novel by Henry Siekiewicz,
"Quo Vadis" was filmed on location in Rome and starred Robert Taylor, Deborah Kerr, Leo Genn and Peter Ustinov, who was nominated for an Oscar and won a Golden Globe for his definitive performance as the Roman Emperor, Nero. Elizabeth Taylor, originally cast in a larger role but then replaced, made an uncredited cameo appearance as a slave, as did the relatively unknown Sophia Loren, who was appearing in her first American film.
The film takes place in ancient Rome from 64 – 68 AD during the reign of Emperor Nero (Peter Ustinov). General Marcus Vinicius (Robert Taylor) returns home from war after three years to a city rife with conflict between the new Christianity and the corrupt Roman Empire. He finds himself falling in love with Lygia (Deborah Kerr), a devout follower of the new religion, and his loyalty to the megalomaniacal Nero is shattered. The characters and events depicted are a mixture of actual historical figures and situations and fictionalized ones.
Coming as a 2-disc Special Edition, the release will feature a completely restored Technicolor widescreen transfer of the movie with a 5.1 channel Dolby Digital audio track, and will also include – for the first time on home video – composer Miklos Rozsa's magnificent overture as originally presented during the film's premiere roadshow theatrical engagements.
As extras the release serves up a Commentary Track by filmmaker/writer F. X. Feeney in which he explores the genesis of one of MGM's most glorious, grand-scale productions.
Also included is the Documentary "In the Beginning: Quo Vadis and the Genesis of the Biblical Epic." This documentary walks the road as long and complex as the film itself, from its roots as a Nobel Peace Prize-winning bestseller to its various ground-breaking adaptations to its place as the most daring and lavish film that MGM, and Louis B. Mayer, dared to undertake.
The release is rounded out by the movie's Theatrical Trailer and Teaser Trailer.
"Quo Vadis" will finally arrive on DVD on November 11 and carries a $20.97 sticker price. A Blu-Ray Disc version is also in the making and is tentatively slated for release in time for Easter 2009.