Supernatural continues in high definition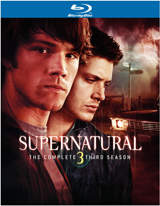 Warner Home Video has added the Third Season of Supernatural to their release schedule on Blu-Ray Disc with a November date attached t oit.
The yellow-eyed demon is vanquished, but at a terrible price. The battle that brought him down released hundreds of demons from Hell into an unsuspecting world. And it cost Sam his life. But a grief-stricken Dean made a deal with the Crossroad Demon – his soul for Sam's resurrection. Now Dean has just one year to live. One year to fight the unholy, the twisted, the ghoulish. One year to say farewell to Sam. And one year for Sam to search desperately for some way to save his brother. Mind-bending adventure awaits as the Winchester brothers continue their astonishing odyssey into the supernatural…and their personal odyssey into destiny.
Coming as a Deluxe 3-Disc Set, the release will feature the show in 1080p high definition in its original 1.78:1 widescreen aspect ratio, complete with Dolby Digital 5.1 audio. But the release will also sport some cool extras, such as the Featurette "From Legends To Reality: The Supernatural Effects" and the Supernatural Impala Featurette giving you a look inside the classic 1967 Chevrolet Impala. Next up are a series of Short Segments called "A Closer Look" that will showcase favorite aspects of various episodes. A Minifeaturette Gallery with the title "Ghostfacers! Confessionals" will also be included, as well as a Gag Reel.
"Supernatural: The Complete Third Season" will arrive on Blu-Ray on November 11 with a $79.98 suggested retail price.