Sony plugs into The Devil's Chair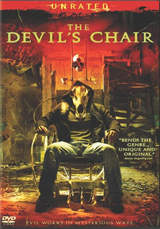 Sony Pictures Home Entertainment has included the horror film The Devil's Chair to their DVD line-up for release in October.
Searching for twisted thrills, Nick West (Andrew Howard) takes his girlfriend to an abandoned mental hospital to drop acid. But when his date sits on a mysterious chair, she is mutilated and her body is dragged into an unforeseen demonic black hole. When Nick tells his horrifying tale to the police, he is deemed clinically insane and locked away. Now, four years later, a brilliant psychology professor and his students return to the crime scene with the accused killer searching for the truth behind the terrifying occult mystery in this blood-drenched, supernatural thriller.
The film will feature an anamorphic widescreen transfer of the film with Dolby Digital 5.1 audio. As bonus materials you will find a Commentary Track with writer/director Adam Mason, writer Simon Boyes and actor Andrew Howardon this release, as well as a Making-Of Featurette.
"The Devil's Chair" will claim its victims starting October 7 for $24.96.