Sony dishes out Quark: The Complete Series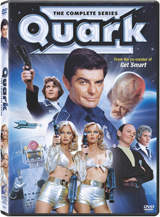 Fans of hilarious science fiction spoofs will dig this. Sony Pictures Home Entertainment has added Quark: The Complete Series to their fall DVD line-up for you to own.
A spoof of science fiction films and TV series, these are the adventures of Adam Quark, captain of a United Galactic Sanitation Patrol ship. His cohorts include Gene/Jean, a "transmute" with male and female characteristics; a Vegeton (a highly-evolved plant-man) named Ficus; and Andy the Android and Betty and Betty (who always argue over who's the clone of the other). Based at Space Station Perma One are Otto Palindrome and The Head. Though Quark is supposed to stick to his sanitization patrols, he and his crew often meet adventure with such colorful space denizens as the evil High Gorgon (head of the villainous Gorgons), Zoltar the Magnificent, and Zargon the Malevolent.
This cultish TV series from the 70s will arrive in its original fullframe aspect ratio with Dolby Digital audio. As extras the release will also include the Minisodes "I Dream Of Jeannie: Anybody Here Seen Jeannie?" and "Fantasy Island: Island Of Horrors".
"Quark" arrives in all its glory on October 14 and can be yours for $19.98.