Put on the Scrubs for season seven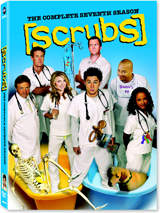 Buena Vista Home Entertainment has just added Scrubs: The Complete Seventh Season to their DVD release line-up this fall.
Dr. John "J.D." Dorian (Zach Braff) has gone from intern to resident to attending physician at Sacred Heart Hospital. He and his friends and colleagues, Elliot (Sarah Chalke), Turk (Donald Faison) and Carla (Judy Reyes), may be growing older but they aren't necessarily growing up. Career changes, family matters and even love invades the quirky world of this tight knit bunch of friends, but nothing—not sarcastic Dr. Cox (John C. McGinley), imperious Dr. Kelso or the enigmatic Janitor (Neil Flynn) – will stop them from administering a healthy dose of humor in each episode of Season Seven.
All 11 episodes of the season will be included on the release in their original fullframe aspect ratio with Dolby Digital 5.1 audio. As extras the DVD set will also contain Audio Commentaries and the Featurette "My Making of My Princess" in which you will go behind the scenes of the most ambitious Scrubs episode ever as Season Seven's finale finds Dr. Cox spinning a bedtime story, complete with damsel in distress, hideous monster and village idiot, based on real life goings on at Sacred Heart (Guess who he casts as the knight in shining armor?)
Also included is a One-On-One With Ken Jenkins, an interview with the actor who created Scrub's irascible chief of medicine, Dr. Kelso. The release is rounded out with Deleted Scenes, Alternate Lines and Bloopers.
"Scrubs: The Complete Seventh Season" arrives on November 11 and can be yours for only $29.99.