Prince Caspian comes home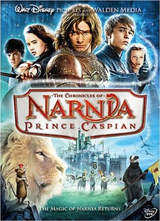 The second chapter in the Narnia epic is coming to DVD later this year when The Chronicles of Narnia: Prince Caspian comes home.
A single disc DVD and a two-disc DVD version will arrive as well as a two disc and three disc Blu-ray versions.
The first disc of all sets will include the film with audio commentary by Andrew Adamson, the Blu-ray will also feature BD-Live features and a Circle-Vision interactive sequence.
The second disc contains Bloopers, Deleted Scenes and the featurettes Inside Narnia, Sets of Narnia, Big Movie Comes to a Small Town, Previsualizing Narnia, Talking Animals and Walking Trees: The Magical World of Narnia, Secrets of the Duel, Becoming Trumpkin and Warwick Davis: The Man Behind Nikabrik.
The Blu-Ray version will contin all of these extras as well as a digital copy of the film itself on a third disc.
All three version will arrive on December 2nd.