Missing Hammer films finally make it to DVD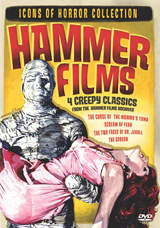 There were a number of Hammer horror movies that for some obscure reason never made it to DVD, much of the dismay of fans around the country, particularly, since among these films were some of the studios' most beloved movies. Sony Pictures Home Entertainment has finally prepared DVD versions of these films and is releasing them as a DVD box set called Icons Of Horror: Hammer Films.
The 2-disc DVD set will allow fans to finally see The Curse Of The Mummy's Tomb, The Two Faces Of Dr. Jekyll, Scream of Fear and most importantly, The Gorgon in restored anamorphic widescreen quality.
Unfortunately the release will not contain any bonus materials, but for mot fans it will be satisfying enough to finally get their hands on these films. "Icons Of Horror: Hammer Films" will be in stores on October 14 and can be yours for $24.96.