Lionsgate unearths the Bruce Campbell cult classic Sundown: The Vampire In Retreat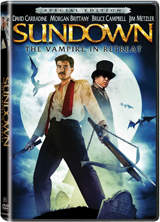 Lionsgate Entertainment has unearthed a lost gem of cult cinema and is now preparing the 1990 flick, Sundown: The Vampire In Retreat as a DVD Special Edition this fall. Starring David Carradine and Bruce Campbell side by side, the film is a horror-western fusion about a community of vampires who live in a remote, dusty desert town.
Count Mardulak, the leader of a group of vampires, has ended their tradition of human bloodletting and placed his followers on a diet of synthetic, bottled blood in an attempt to put aside their monstrous nature and peacefully co-exist with humans. However, when the Harrisons, a human family, move into the town, the natives start to crave "the real thing." Soon, the Harrisons find themselves in the thick of an escalating rivalry between two vampire factions – one led by peaceful Count Mardulak and the other old-school bloodsuckers who consider Mardulak and his clan traitors to their predatory heritage. The battle for the "right to bite" begins at sundown!
Apart from an anamorphic widescreen presentation with Dolby Digital 5.1 audio, the DVD version will contain a Commentary Track with director Anthony Hickox and director of photography Levie Isaacks, as well as the Featurettes "Memories Of Moab," "A Vampire Reformed" and "The Making Of Sundown." A Photo Gallery will round out the release.
"Sundown" arrives for the shoot-out on September 23 with a $19.98 sticker price.