Iron Man flies onto home video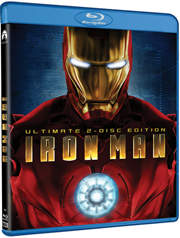 Suit up for action with Robert Downey Jr. in the ultimate adventure movie you've been waiting for, Iron Man to hit DVD and Blu-Ray Disc this fall!
When jet-setting genius-industrialist Tony Stark (Robert Downey Jr.) is captured in enemy territory, he builds a high-tech suit of armor to escape. Now, he's on a mission to save the world as a hero who's built, not born, to be unlike any other.
The DVD version will feature an anamorphic widescreen transfer of the film with Dolby Digital 5.1 audio tracks in a number of languages. Packed wit hextras, the release will contain 11 Deleted & Additional Scenes as well as a slew of 15 Featruettes covering virtually every aspect of the film's production, history and background. Whether you're interested in the costumes, the special effects, the cast, the comic book, the script or anything else relating to Iron Man, you will find it here.
In addition the release will contain Robert Downey Jr.'s Screen Test as well as a selection of Trailers and a Still Gallery.
On Blu-Ray Disc the release fares no different. Coming with a 1080p high definition transfer and Dolby Digital 5.1 TrueHD audio tracks, the release will contain all the extras found on the DVD version as well as an exclusive BD Live feature.
"Iron Man" flies into retail on September 30 and can be yours to won for $39.99 on DVD or Blu-Ray respectively. A single-disc DVD version will also be available for $29.99, featuring only the movie itself with a few deleted scenes