Indy discovers even more treasure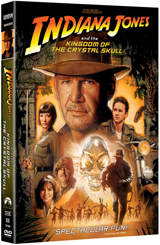 Only hours after the original release information, comes new information on the Indiana Jones and the Kingdom of the Crystal Skull Blu-ray and DVD coming from Paramount Home Entertainment.
Both versions will come as two disc sets. The Blu-ray will be AVC and Dolby TrueHD. Disc one will feature three interactive timelines with video and images. The three timelines follow the timelines of the story of Crystal Skull, the timeline of the production of the film and the timeline of the historical era in which the story takes place. Two featurettes (HD on the Blu-ray) are also included on disc one; The Return of a Legend and Pre-production.
The second disc has a six part production diary (HD), the HD featurettes Warrior Makeup, The Crystal Skulls, Iconic Props, The Effects of Indy, Adventures in Post Production and Closing: Team Indy, several pre-visualization sequences and several photo galleries. Surprisingly the trailers are not listed as extras at this time.
The disc arrives October 14th.