Diary Of The Dead bound for Blu-Ray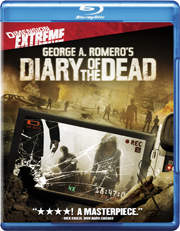 Genius Products has added a Blu-Ray Disc version of George A. Romero's Diary Of The Dead for release this fall.
Already available on DVD, the film, continuing Romero's zombie-saga, focuses on a terrified group of college film students who record the pandemic rise of flesh-eating zombies while struggling for their own survival. Intensely gruesome and relentlessly grisly – fueled by the director's signature realistic special effects – "Diary of the Dead" is must-see horror that will chill you to the bone.
The high definition version will include a 1080p transfer as well as a lll the extras found on the previously released DVD version. Therefore, look for a Commentary Track by writer/director George A. Romero, director of photography Adam Swica and editor Michael Doherty. Also included is the Feature-length Documentary "For The Record," the Featurettes "The Roots: The Inspiration For The Film," "The First Week: A Visit To The Set," and "Familiar Voices: Cameo Outtakes." You will also see the MySpace Contest Winners and Character Confessionals on the release.
"Diary Of The Dead" appears in high definition on October 21 for $29.95.