Dario Argento's Stendahl Syndrome poised for high definition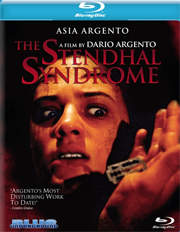 Blue Underground has added a Blu-Ray Disc version of Italian giallo master Dario Argento's The Stendahl Syndrome to their line-up.
When beautiful police detective Anna Manni follows the bloody trail of a sophisticated serial murderer/rapist through the streets of Italy, the young woman falls victim to the bizarre "Stendhal Syndrome" – a hallucinatory phenomenon which causes her to lose her mind and memory in the presence of powerful works of art. Trapped in this twilight realm, Anna plunges deeper and deeper into sexual psychosis, until she comes to know the killer's madness more intimately than she ever imagined.
The release will feature a 1080p transfer of the movie in its original 1.66:1 aspect ratio and complement it with a DTS HD audio track. The transfer has been supervised by cinematographer Giuseppe Rotunno from the original Italian 35mm interpositive.
As extras the release will contain a series of Featurettes covering aspects such as the director, the special effects, the movie's inspiration and others. In addition the film's Theatrical Trailer will be included.
"The Stendahl Syndrome" will arrive in high definition on November 18 with a $34.95 suggested retail price.