Cool Hand Luke arrives from Warner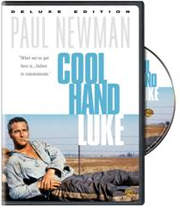 Warner Home Video has just announced the Paul Newman movie Cool Hand Luke to hit DVD and Blu-Ray Disc this fall.
Newman, who was Oscar-nominated for Best actor for his role, gives one of the most powerful performances of his career as Lucas "Luke" Jackson, a cool, gutsy prisoner in a Southern chain gang, who refuses to buckle under to authority, while repeatedly escaping and being recaptured. The prisoners admire Luke because of his gumption but the head of the gang hates him and tries to break him by beating him often. Ultimately Luke gains the respect of all the convicts but with each escape and return he is subjected to more and harsher punishments by the sadistic guards.
The Deluxe Edition DVD will contain a Commentary Track by noted writer and Paul Newman biographer, Eric Lax as well as an All-new Featurette entitled "A Natural-Born World-Shaker" which covers the making of the movie and gives you an in-depth look at the creation of an uncompromising classic. The disc will be rounded out by the film's Theatrical Trailer.
The Blu-Ray version will come in 1080p high definition and offer all the same extras as the DVD release.
Mark September 9 in your calendars and set aside $19.97 for the DVD version or $28.99 if you want to own the Blu-Ray version.