Chuck is now going to high def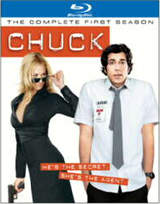 With the new season of the show just about to take off, Warner Home Video has just added an eagerly awaited Blu-Ray version of Chuck: The First Season to their release line-up.
Chuck Bartowski, ace computer geek at Buy More, is not in his right mind. That's a good thing. Ever since he unwittingly downloaded stolen government secrets into his brain, action, excitement and a cool secret- agent girlfriend have entered his life. It's a bad thing, too. Because now Chuck is in danger 24/7.
Coming on 3 discs, the set will contain all 12 episodes of the show's first season as well as the original pilot. Also included are Declassified Scenes and a Gag Reel, and the Featurettes "Chuck's World" and "Chuck on Chuck." A Gallery of web originated mini-featurettes is also inlucded.
"Chuck: The First Season" arrives on November 11 for $49.99.