Charmed comes as a Complete Series DVD set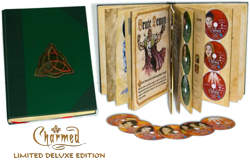 Paramount Home Entertainment has added Charmed: The Complete Series for release in November, giving fans of the TV show the chance to own all seasons in a single DVD set.
"Charmed" explores the relationship between three sisters, who after discovering that they possess magical powers, are reluctantly thrown into a world of supernatural evils. The Halliwell sisters must keep their identity as "the Charmed Ones" secret from the world, with only themselves to rely upon, as they protect the innocent and fight demons.
With a Limited Deluxe Edition packaging that looks like a Grimoire and running over 129 hours, the DVD set will arrive in stores on November 28 and carry a $338.99 sticker price. Alternatively there is a version available in a regular packaging and with a few less gimmicks, costing $only 289.99.