Caligula does it in high definition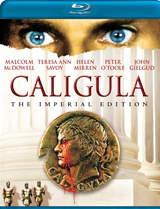 Image Entertainment has added the once-controversial Penthouse movie Caligula to their Blu-Ray Disc release line-up for November.
Before "Rome." Before "Gladiator." The most controversial film of all time as you've never experienced it before! Combining lavish spectacle and top award-winning stars, this landmark production was shrouded in secrecy since its first day of filming. Now, this unprecedented special edition presents a bolder and more revealing Caligula than ever before, with a beautiful new high-definition transfer from recently uncovered negative elements and hours of never-before-seen bonus material! From the moment he ascends to the throne as Emperor, Caligula enforces a reign like no other as power and corruption transform him into a deranged beast whose deeds still live on as some of the most depraved in history.
Featuring a 1080p high definition transfer and DTS 5.1 HD audio, "Caligula: The Imperial Edition" will show you the decadence of Rome in more vivid detail than ever. The release can be yours for $29.98 when it arrives in stores on November 4.