Anchor Bay unveils Dead Space: Downfall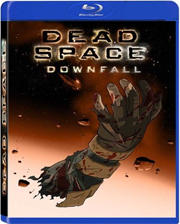 Anchor Bay Entertainment has just unveiled the final specs for their upcoming DVD and Blu-Ray Disc release of Dead Space: Downfall, a tie-in anime flick to Electronic Arts' video game, arriving in October.
An ancient religious artifact has been recovered by a deep-space mining ship, and for the crew of the USG Ishimura, life just became a living hell. Unearthed on a far-away planet during a mining operation, the relic is worshiped by some, even seen as proof of God. But when it's removed from its resting place and brought on the ship, the artifact unleashes a long-dormant alien race, one bent on ripping apart — and taking over — every human aboard. Their screams CAN be heard in space … but only the slashers are listening.
The DVD version of the film will feature the movie with Dolby Digital 5.1 audio and contain bonus materials such as Deleted Scenes, Trailers and Cheat Codes for the video game.
The Blu-Ray version will feature a 1080p high def transfer of the movie and as a first for Anchor Bay, it will feature a Dolby Digital TrueHD and a DTS HD Master Audio track on the same disc. The release will also include the extras from the DVD version, but will further include two other Anchor Bay firsts on Blu-Ray. The first one is a Digital Copy of the movie for playback on the PSP while the other extra is Anchor Bay's frist use of the feature. On this disc it will allow you to download an MP3 version of the film's score in full 5.1 format, as well as Animatics and other extras.
"Dead Space: Downfall" comes to stores in time with the EA video game on October 28 and can be yours for $26.97 on DVD, or $34.98 on Blu-Ray.