Anchor Bay unleashes Bloodsucking Cinema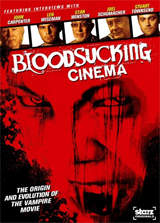 They are the sexy embodiment of immortality. Their literal lust for life rivals the antics of today's rockstars. The story of the vampire has ravished humanity for thousands of years and now Anchor Bay Entertainment will bring the original Starz documentary Bloodsucking Cinema to DVD this fall.
"Bloodsucking Cinema" dips into the bloody archives to examine the breadth of vampire cinema classics, from the early Bela Lugosi and Christopher Lee classic portrayals to contemporary visions including "Bram Stoker's Dracula," "Van Helsing," "Underworld: Evolution," "Interview with the Vampire," "The Lost Boys," "Queen of the Damned," "BloodRayne" and "John Carpenter's Vampires."
Hosted by Richard Roeper the documentary features interviews with such vampire "experts" as directors John Carpenter (Vampires), Len Wiseman (Underworld), John Landis (Innocent Blood) and Joel Schumacher (The Lost Boys), actors Kristanna Loken (BloodRayne) and Stuart Townsend (Queen of the Damned), writers Marv Wolfman and David Goyer (Blade), as well as one of the last interviews with Oscar-winning special effects wizard Stan Winston (Terminator 2: Judgment Day, Interview With The Vampire).
Mark September 23 in your calendars because that's the day this DVD will make its mark in stores for $29.97.