A&E Home Video repackages Horatio Hornblower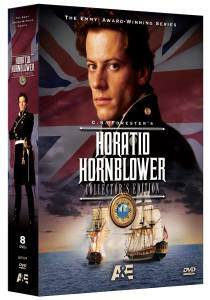 A&E Home Video has just announced that new 8-disc DVD set of Horatio Hornblower is on its way for a fall release. The incredible an eight-volume treasure chest of sweeping naval adventure and historical drama is filled with bonus materials also.
Joining the British Royal Navy at the outset of the Napoleonic Wars, the enterprising Hornblower (Ioan Gruffudd) rises quickly from raw recruit to seasoned sailor, charting a course from the West Indies to the coast of Africa in the name of the Crown. Along the way he encounters roiling sea battles, mutiny, plague and love, but always proves himself equal to the task.
Among the bonus materials on the set you will find Commentary Tracks on "Duty" and "Loyalty" as well as an Interview with Ioan Gruffudd. A series of Featurettes is also included such as "England's Royal Warships", "Sail 2000: Aboard the Eagle", and "The Making of Horatio Hornblower." Other bonus materials cover novelist C.S. Forester, Nautical Terms, a Guido To Royal Warships, and much more.
The newly repackaged Hornblower will arrive on September 23 for only $59.95.