24: Exile arrives this fall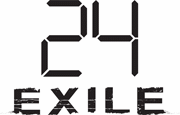 20th Century Fox Home Entertainment has just announced details about the upcoming DVD release of the feature film 24: Exile, scheduled for release in November.
After sacrificing everything for his country, Jack Bauer (Kiefer Sutherland) stands to lose the only thing he has left – his freedom. Wanted by the U.S. government and working as a missionary in Africa, Bauer is called upon to stop a ruthless warlord from drafting innocent children into his murderous militia. But first, Bauer must confront his own torturous past and face an impossible decision that will change his life forever.
The DVD release will contain an exclusive Creator's Cut of the film featuring over ten minutes of Never-before-seen Footage not shown in the television broadcast. The release will also contain a Cast and Crew Commentary Track and a Behind-the-scenes On-location Documentary. Further you will find an exclusive Sneak Peek at Season 7 on the release, including the first 16 minutes of the premiere episode.
"24: Exile" will arrive in stores on November 25 and will carry a $26.98 price tag.