Warner is bringing The Adventures Of Robin Hood to Blu-Ray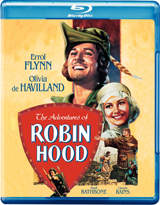 It has been out on HD-DVD for some time now, but this morning Warner Home Video finally announced a Blu-Ray version of the 1938 swashbuckling Errol Flynn movie The Adventures Of Robin Hood.
In this rousing family adventure, nobleman Robin, the Earl of Locksley (Errol Flynn), becomes an outlaw when he opposes Prince John's (Claude Rains) attempt to capture the throne from brother Richard the Lionhearted (Ian Hunter), King of England. Robin escapes to Sherwood Forest where he recruits his band of Merrie Men to help with the resistance. Assuming the name of Robin Hood, he robs the rich to aid the poor, heavily taxed at the hands of the Sheriff of Nottingham (Melville Cooper). At the same time, he falls in love with Maid Marian (Olivia de Havilland). When Marian is captured, Robin and his men storm Nottingham Castle, rescue her and win back the crown.
Packed with extras, the release will not only contain a 1080p high definition transfer of the movie, but also a Commentary Track by film historian Rudy Behlmer and an Introduction by Leonard Maltin. The release serves up a series of Featurettes, such as "Welcome to Sherwood: Story of the Adventures of Robin Hood," "A Journey of Sherwood Forest," "Robin Hood Through the Ages," and the 1998 TCM Documentary "Glorious Technicolor."
Also included is Newsreel and Freddie Rich and His Orchestra as well as a selection of Cartoons and Shorts which were part of the original theatrical presentation of the movie or later re-releases, such as "Katnip Kollege," "Robin Hood Daffy," "Rabbit Hood," "Breakdowns of 1938," "Cavalcade of Archery," and "The Cruise of the Zaca." All of these will actually be presented in high definition on the disc.
A Music Only Track will also be part of the disc, as well Audio Presentations of "Erich Wolfgang Korngold Piano Sessions" and a Radio Broadcast of the "Robin Hood Radio Show." In addition, look for Splitting the Arrow Galleries. Outtakes and no less than 13 Trailers!.
"The Adventures Of Robin Hood" will arrive on Blu-Ray on August 26 for only $28.99.