Sylvester and Tweety Mysteries, no longer missing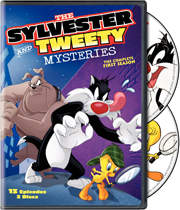 The Looney Toons Golden Collection may be coming to an end, but the more modern incarnations of a certain cat and bird will be coming to DVD. Sylvester and Tweety Mysteries: Season 1 comes to DVD from Warner Home Video.
The series features sweet natured Granny, who opens a detective agency, unleashes her mystery solving talents and embarks on a globe-trotting adventure along with her beloved pets Sylvester the cat, Tweety Bird and bulldog, Hector. Together, the gang investigates everything from disappearing objects to bizarre events. Their cases take them all over the world, including Japan to investigate the theft of the world's largest tuna; Monte Carlo in search of a missing platinum roulette wheel; Denmark, where Granny herself is accused of stealing rare Danish pastries; Ireland, where they must find the world-famous Blarney Stone and much, much more. On top of having to help Granny, Sylvester and Tweety still find time to engage in their old antics with Tweety constantly having to outsmart Sylvester's attempts to trap and have him as a meal.
No extras at all seem to be on the set which contains the 13 episodes of the first season, but the set will arrive for $19.97 on September 9th.