Risky Business returns to home video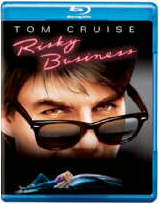 Warner Home Video has just added Risky Business for a DVD Deluxe Edition re-release and on Blu-Ray Disc for the first time.
Meet Joel Goodson. Industrious, college-bound 17-year-old. Responsible, trustworthy son. But he's been good for too long. Joel's parents are away and he's in charge of the house. They trust him. Maybe they shouldn't.
The Tom Cruise comedy arrives as single-disc Deluxe Edition and a single-disc Blu-Ray Disc. No extras have been announced yet but we will keep you posted as new information comes in, of course.
"Risky Business" makes an appearance on September 16 for $19.97 on DVD and $28.99 on Blu-Ray.