MGM brings Pathology to DVD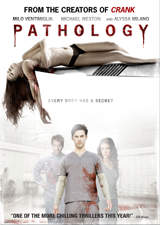 MGM Home Entertainment has added Pathology to their DVD line-up, scheduling the disc in September.
The creators of "Crank" crank up the shock value in this twisted tale of terror that combines pulse-pounding thrills with heart-stopping suspense! Ted Grey (Milo Ventimiglia) is a brilliant medical student with a promising future in forensics. But when he joins the nation's most prestigious Pathology program, he unknowingly becomes a pawn in a terrifying game of death and destruction as his fellow students use their razor-sharp skills to commit unthinkable murders. When the pathological secrets of his colleagues begin to unfold, Ted quickly realizes that what he doesn't know…could kill him.
The DVD features an anamorphic widescreen transfer of the movie with Dolby Digita l5.1 audio. As extras you will find a Commentary Track by director Marc Schoelermann and writers/producers Mark Neveldine and Brian Taylor on the disc. Also included is the Featurette "The Cause of Death: A Conversation with Pathologist Craig Harvey," the Legion of Doom vs Triune Music Video "Unintended Consequences" as well as a number of Deleted & Alternate Scenes.
"Pathology" arrives on September 23 with a $27.98 sticker price.