Anchor Bay brings the uncut version of Phantasm IV: Oblivion to DVD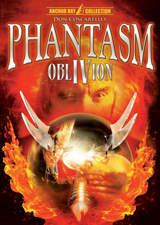 We just got word from Anchor Bay Home Entertainment that the studio has secured the rights for Don Coscarelli's Phantasm IV: Oblivion for DVD and is working on a DVD release of the film in August.
The original "Phantasm broke" new ground in horror filmmaking. Don Coscarelli was instantly hailed as one of the next generation's 'Masters of Horror'. And now, after two sequels filled with zombies, dwarves and slicing spheres it's time for the most bizarre Phantasm yet!
In the film, the original cast returns as Mike (A. Michael Baldwin), along with Jody (Bill Thornbury) and Reggie (Reggie Bannister), undertake a surreal journey through the dimensions of time and space to understand the terrifying birthright of the Tall Man, as well as the origins of the infamous and lethal Sphere! Witness the Tall Man's final assault with his dark army – the future of the human race hanging in the balance!
This DVD release presents the uncut version of the film, reinstating scenes that were deleted prior to its original North American theatrical release. It will be presented in anamorphic widescreen with Dolby Digital 5.1 audio. Also included are a number of extras, such as a Newly Recorded Commentary Track by writer/producer/director Don Coscarelli, Reggie "The Ice Cream Man" Bannister and the "Tall Man" himself – Angus Scrimm! You will also find a Never-before-seen Retrospective Featurette on the DVD.
Finally being lifted out of obscurity, "Phantasm IV: Oblivion" can be yours on August 26 for only $14.98.