7 Seconds will be in it for you in August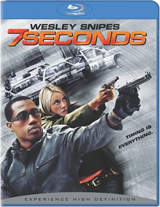 Sony Pictures Home Entertainment has added a Blu-Ray Disc version of the Wesley Snipes actioner 7 Seconds to their release line-up.
Action star Wesley Snipes is a professional thief whose high-stakes caper goes murderously wrong in this explosive, brilliantly unpredictable crime thriller. Captain Jack Tolliver (Snipes) is an ex-Delta Force commando leading what should have been a clockwork-perfect armored car heist. Instead, he ends up with a priceless Van Gogh painting – and one of his crew ends up held hostage by the sadistic Russian gangsters who muscled in on the heist. Tolliver's only option: a suicidal rescue mission where enemies become allies, your best friend can be your worst nightmare, and survival is deadliest art of all.
Without any bonus materials the film will arrive with a 1080p high definition transfer and Dolby Digital 5.1 TrueHD audio tracks in a variety of languages.
Look for "7 Seconds" in a store near you on August 12 for $28.98.