Witness The Life and Times of Mr. Perfect when it arrives on DVD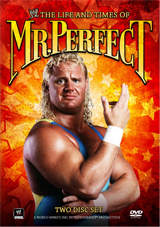 WWE Home Entertainment has just announced the tribute DVD The Life and Times of Mr. Perfect for release in September.
Hailed by many as one of the greatest professional wrestlers of the 80s, Curt Hennig, or "Mr. Perfect" as he was known, needs no introduction. He was just like his wrestling nickname, "perfect" in every aspect of his wrestling style. He got his start in a wrestling family with his father Larry 'the Axe' Hennig, went through Verne Gagne's training camp, and gained experience in the AWA, reaching the pinnacle as the AWA Heavyweight Champion. But Curt Hennig's biggest spotlight would shine in WWE, when he became Mr. Perfect, a two-time Intercontinental Champion and 2007 inductee in the WWE Hall of Fame.
WWE is celebrating the life and death of this exceptional wrestler with a 2-disc DVD set running over 360 minutes. It contains a comprehensive professional Biography and a disc filled with matches spanning the career of the Mr. Perfect. You will also find Remembrances from family, friends, and rivals of the 2007 WWE Hall of Famer's enduring legacy, including Footage from WWE, WCW, and AWA.
"The Life and Times of Mr. Perfect" comes to stores on September 9 for $29.95.