We now have the cover for A&E Home Video's The Universe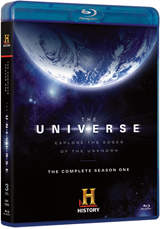 We just received word from A&E Home Video that th studio is entering the high definition arena this fall. Currently preparing their launch title, The Universe: The Complete Season One from the History Channel, the studio will prepare a striking high def transfer of the series and supplement it with 5.1 Dolby Digital audio.
The 3-disc set will contain all 13 episodes from the show's first season using a 1080i transfer in the show's original 1.78:1 widescreen aspect ratio. Also included in the disc set is the Documentary "Beyond The Big Bang."
A&E's first foray into Blu-Ray territory will take place on October 14. The disc set will carry a $79.98 price tag.