The Rolling Stones rock on DVD and Blu-Ray this fall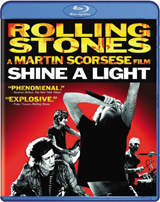 Paramount Home Entertainment has added The Rolling Stones: Shine A Light to their release line-up, bringing this acclaimed film to both DVD and Blu-Ray Disc.
Academy Award-winning filmmaker Martin Scorsese and the world's greatest rock n' roll band, The Rolling Stones, unite to bring audiences the year's most extraordinary film event, "Shine A Light." With special appearances by Christina Aguilera, Jack White and Buddy Guy, and four Rolling Stones performances not seen in theaters, Shine A Light is a must-own for rock n' roll fans across generations.
The DVD version will feature a widescreen transfer of the film with Dolby Digital 5.1 audio. As extras the release will also include a Featurette and Music Videos for "Paint It Black," "Undercover Of Night," "Little T And A" and "I'm Free."
The Blu-Ray version will contain the same bonus materials but offer a 1080p high definition transfer with uncompressed 5.1 Dolby Digital TrueHD and DTS audio tracks.
"The Rolling Stones: Shine A Light" appears on store shelves on July 29 for $34.99 on DVD and $439.99 on Blu-Ray.