The Outlaw Josey Wales returns to DVD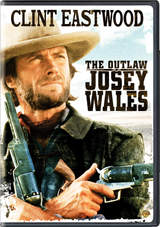 Warner Home Video is re-releasing the Clint Eastwood Western The Outlaw Josey Wales on DVD this fall.
After avenging his family's brutal murder, Wales is on the lam, pursued by a pack of killers. He travels alone, but a ragtag group of outcasts (including Sondra Locke and Chief Dan George) is drawn to him – and Wales can't leave his motley surrogate family unprotected. Eastwood's skills before and behind the camera connected with audiences for its humor and tenderness as well as its hair-trigger action.
The release will feature an Introduction by Clint Eastwood. The original 1976 Documentary "Eastwood In Action" is included on the release as well as the 1999 Documentary "Hell Hath No Fury: The Making Of The Outlaw Josey Wales." Production Notes and the movie's Trailer round out the disc.
"The Outlaw Josey Wales" rides into town again on September 2 with a super-friendly $12.98 price tag.