The Lost Boys appear on Blu-Ray also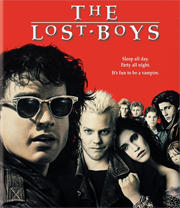 In addition to the sequel that we announced yesterday, Warner Home Video is also releasing a Special Edition of The Lost Boys on Blu-Ray Disc this summer.
Sam and his older brother Michael are all-American teen with all-American interests. But after they move with their mother to peaceful Santa Carla, California, things mysteriously begin to change. Michael's not himself lately. And Mom's not going to like what he's turning into.
The Blu-Ray version will feature the atmospheric vampire movie in 1080p high definition resolution with a Dolby Digital 5.1 TrueHD audio track, a Dolby Digital 5.1 track and Dolby Stereo tracks in a number of languages.
As extras the release will contain the materials previously found on the 2-disc Special Edition DVD, such as a Commentary Track by director Joel Schumacher, Additional Scenes, the Documentary "The Lost Boys: A Retrospective" as well as a series of Featurettes about the film's production. The Multi-angle Video Commentary is also included as well as a Photo Gallery and the "Lost In The Shadows" Music Video and more
"The Lost Boys" will rise from the dead to drink the blood of their victims on July 29 and can be yours for $28.99.