The Godfather of high def news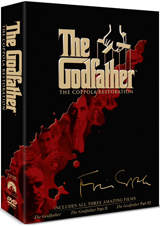 Paramount Home Entertainment will be releasing their highest profile title yet with a fantastic new box set of The Godfather: The Coppola Restoration on DVD and Blu-ray.
The original DVD release was exciting for DVD owners who had waited for years for the crown jewel of cinema to arrive in digital, but it was hardly a comprehensive set. The new set contains the films beautifully restored and with quite a few new extras.
All three films will be presented on DVD and Blu-ray on a single disc with an audio commentary and will be sold seperately. A box set will be available on both formats with a large number of supplements on two additional DVDs (or one Blu-ray).
Extras on the new Blu-ray include all the supplements of the existing DVD set including the featurettes The Godfather Family: A Look Inside, On Location, Francis Coppola's Notebook, The Music of the Godfather, Coppola & Puzo on Screenwriting and Gordon Willis on Cinematography, storyboards from II and III and the special The Godfather: Behind the Scenes 1971, aditional scenes, acclaim and response, trailers (in HD), a photo gallery, a rogues gallery and info on Francis Ford Coppola, Mario Puzo, Gordon Willis, Dean Tavoularis, Nino Rota and Carmine Coppola.
New features for the Blu-ray set include the featurettes Godfather World, The Masterpiece that Almost Wasn't, … when the shooting stopped, Emulsional Rescue: Revealing The Godfather and The Godfather on the Red Carpet (all in HD), the short films The Godfather vs. The Godfather, Part II, Cannoli, Riffing on the Riffing and Clemenza (also in HD), plus a crime organization chart and Connie and Carlo's Wedding Album.
Quite an amazing set.I will avoid the obvious pun about offers and refusing them, but the set will be a great deal on September 23rd when it arrives for $72.99 on DVD and $119.99 on Blu-ra. The DVDs will be available seperately for $19.99.