The Counterfeiters arrives on DVD and Blu-Ray this fall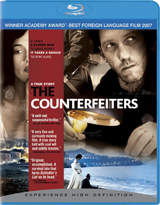 Sony Pictures Home Entertainment has just announced The Counterfeiters to appear on DVD and Blu-Ray Disc later this year.
Winner of the Academy Award® for Best Foreign Language Film, "The Counterfeiters" tells the true story of Salomon Sorowitsch (Karl Markovics), a swindler who made a name for himself as Berlin's "King of the Counterfeiters." However, his life of women and easy money is cut short when he's arrested and placed in a Nazi concentration camp. With the German army on the verge of bankruptcy, Sorowitsch makes a sobering deal with his captors: in exchange for a comfortable bed, good food and fair treatment, Sorowitsch, along with the other hand-picked specialists, must counterfeit bank notes to fund the Nazi War effort. If he does as they say, he lives another day. If he rebels, he faces the same fate as the rest of the camp's prisoners. But if he lives, will he be able to live with himself?
The DVD version of the movie will offer an anamorphic widescreen transfer as well as the movie's original German audio track in 5.1 Dolby Digital. As extras you will find a Commentary Track by director Stefan Ruzowitzky on the release as well as a selection of Deleted Scenes. Also included are a number of Interview Featurettes with Adolf Burger, Karl Markovics and one with director Stefan Ruzowitzky. A Q&A Session with Stefan Ruzowitzky is also included as well as Adolf Burger's Historical Artifacts. Last but not least, also look for a Making-Of Featurette on the disc.
The Blu-Ray version will include the same features as the DVD with no high def exclusives.
"The counterfeiters" will arrive in stores on August 5 with a $28.96 and $38.96 sticker price, respectively.