Shout! Factory brings us the Code Monkeys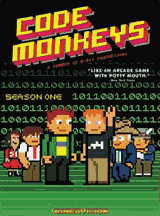 Grab your joystick and press "Start" for G4's smash hit of 8-bit proportions because Shout! Factory is bringing Code Monkeys: Season 1 to DVD.
Set in the 80s at the dawn of the home computer era, this animated show revolves around the video game company GameVision and its two star programmers, Dave and Jerry. Together these best-bud slackers are destined for dysfunctional greatness.
The DVD set also contains a Behind-the-scenes Look at the show, Daily Pranks and Camera Tests as well as Gaming Tips by Kristin Holt. Also included are the original "Barfight" and "Crosswalk" Promos as well as original GameVision Games and Wallpapers.
"Code Monkeys: Season 1" arrives as a 2-disc DVD set on August 5 for only $19.98.