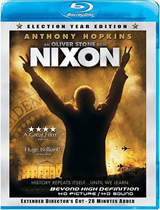 Before Oliver Stone takes on George W. Bush, Buena Vista will remember his views on our 37th president with a Blu-ray release of Nixon this year.
Anthony Hopkins electrifies the screen as Nixon in the acclaimed hit from controversial director Oliver Stone. Nominated for four Academy Awards, including best actor, Anthony Hopkins, 1995, Nixon takes a riveting look at a complex man whose chance at greatness was ultimately destroyed by his passion for power, when his involvement in conspiracy jeopardized the nation's security and the presidency of the United States. With a phenomenal all-star cast featuring Ed Harris, James Woods and Joan Allen, Nixon is a powerful motion picture.
The director's cut of the film will be arriving, but with no extras announces as of yet. The audio will be in PCM 5.1. The Blu-ray will contain the longer version of the film and will be released on August 19th for $34.99.