More info on The Exorcism Of Emily Rose has arrived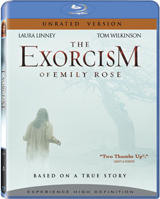 As announced a little while ago here, sphe will release The Exorcism Of Emily Rose on Blu-Ray Disc this summer. Now, the studio has unveiled the complete technical specs and supplements of the release, as well as proper cover artwork, which we thought we'd give you a look at.
A thrilling, horror film based on a true story about a single lawyer (Laura Linney), who takes on the church and the state, when she fights for the life of a priest (Tom Wilkinson), who has performed a deadly exorcism on a young woman. Linney must battle the cocky state lawyer (Campbell Scott) as well as her own demons, as she realizes that her career so far has not led her to fulfillment.
Featuring a 1080p widescreen transfer of the movie, you will also be treated to Dolby Digital TrueHD audio tracks in English, French and Portuguese, as well as Dolby Digital 51. tracks in Spanish and Thai.
As extras the release will include the Featurette "Genesis of the Story" in which the cast and crew talk about how they first heard of the story, and discuss the writing of the script. In the Featurette "Casting the Film," director Scott Derrickson and cast members talk about the casting process of the movie, while the Featurette "Visual Design" will give viewers a look at the production design and special effects in the film.
In addition to these, the disc will also contain a Commentary Track by director Scott Derrickson, as well as a selection of Deleted Scenes with optional commentary by the director. BD Live enabled, additional bonus materials can be streamed from the Internet.
"The Exorcism Of Emily Rose" will be performed on July 22 with $28.95 sticker price.