Lionsgate brings The Invincible Iron Man to Blu-ray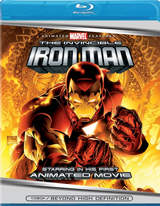 Lionsgate Entertainment has just announced the addition of The Invincible Iron Man to their release line-up, offering up the film on Blu-Ray Disc later this year.
Past and present collide in this epic adventure that reveals the origin of Iron Man. While raising the ruins of a long buried Chinese kingdom, billionaire inventor Tony Stark digs up far more than he bargained for. He unleashes an age-old prophecy that foretells the resurrection of the Mandarin, the emperor of China's darkest and most violent dynasty. In order to confront the destructive force, Tony creates an armored suit infused with high-tech weaponry. To stop the evil that he himself has raised form the earth, Tony must become his greatest invention ever – Iron Man! The newly born champion must travel to the four corners of the earth to battle the Mandarin's henchmen, the Elementals – four magical warriors who harness the power of the elements – earth, water, wind, and fire – with deadly chemistry. But is the Iron Knight, as he his known in the prophecy, strong enough to defy fate and turn back the malevolent forces hell-bent on earth's destruction?
Bringing this successful direct-to-video animated feature film to high definition, the Blu-Ray version will feature a 1080p widescreen transfer and a DTS HD 7.1 Lossless Master audio track to boot. It will also contain a number of cool bonus materials, such as an Alternate Opening Sequence, an original Featurette, Conceptual Art and a Gallery of Iron Man armor plus first looks at the upcoming Marvel Animated Features, "Hulk Vs. Wolverine" and "Hulk Vs. Thor."
The disc will appear in stores on September 2 with a $29.99 price tag.