Jet Li's Black Mask arrives in high definition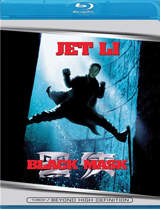 Adding further to their diverse high definition catalog, Lionsgate Entertainment has just announced plans to release the Hong Kong actioner Black Mask on Blu-Ray Disc this fall.
Following his harrowing escape from a secret, superhuman commando unit known as Squad 701, Black Mask takes on a new identity as a quiet librarian named Tsui Chik. His life of normalcy is shaken when a murderous rampage against all of Hong Kong's drug dealers is linked to Squad 701, forcing him to return as the Black Mask in order to stop their campaign of murder before it's too late!
Starring Hong Kong superstars Jet Li and Anthony Wong and produced by Tsui Hark, "Black Mask" arrives with a 1080p high definition transfer as well as a DTS HD 7.1 Lossless Master Audio track. As extras you will find a Featurette with detailed explanations of the Wushu Technique on the disc, as well as "Wushu in Action" Chapter Selections. The disc will be rounded out by a "Black Mask" Interactive Film Trivia Game.
Look for "Black Mask" in the Blu-Ray section under "Action" when it arrives on September 2 with a $29.99 sticker price.