Her Best Move arrives on DVD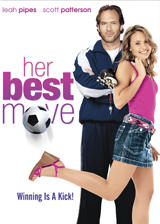 MGM Home Entertainment has added Her Best Move for release in August.
The story of high school soccer prodigy Sara Davis (Leah Pipes) as she juggles life, love and sports on her way to becoming the youngest player ever selected to the U.S. National Team. Conflicts arise as Sara deals with her over-zealous sports dad, a free-spirited boyfriend and her hectic existence in the social quicksand commonly known as high school. Through self discovery Sara must determine if her best move is her next move.
The DVD will feature a widescreen version of the film as well as a fullframe presentation on the disc's flip side, complete with Dolby Digital 5.1 audio. Like so many MGM DVDs these days, no extras have been announced to complement the title.
"Her Best Move" comes to you on August 19 for $22.98.