HBO Video unleashes Dana Carvey on DVD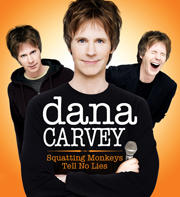 Emmy-winning comedian Dana Carvey is coming to DVD with his latest stand-up antics when HBO Video will release Dana Carvey: Squatting Monkeys Tell No Lies in August
Best known for his off-the-wall "Saturday Night Live" characters – the Church Lady, Hans (of Hans and Franz fame), Garth and the Grumpy Old Man – Carvey now his brings signature insights, as well as his improbable scenarios and memorable impressions to Dana Carvey: Squatting Monkeys Tell No Lies. Covering a wide variety of topics including politics and government conspiracies, permissive parenting, teenagers, the aches and pains of aging, global warming, scientology, safe sex, Satanic rock music and more; Carvey also brings to life the famous and infamous alike, such as George W. Bush, Dick Cheney, Bill Clinton, Barack Obama, Al Gore, Arnold Schwarzenegger, Ronald Reagan, John McCain, Tom Cruise, John Travolta, Andy Rooney and Al Pacino.
The DVD will also include a number of bonus materials, such as Bloopers and Deleted Scenes. Further a Q&A Session with audience members who attended his latest HBO special is included on the disc, plus a Bonus Disc of his first-ever, unreleased and uncut, HBO comedy special "Dana Carvey: Critics' Choice****."
"Dana Carvey: Squatting Monkeys Tell No Lies" arrives on August 5 with a $19.98 sticker price.