Have your Delicatessen again in August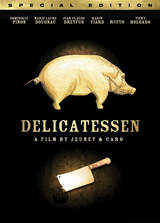 Lionsgate has added Jean-Pierre Jeunet's Delicatessen to their line-up with a re-release on DVD.
From the director of Amelie comes a post-apocalyptic comedy that's both bitingly hilarious and absolutely one-of-a-kind. When meat becomes so rare that it is used as currency, residents living above a delicatessen must depend on a menacingly strange butcher (Jean-Claude Dreyfus) for their supply. But when a new tenant (Dominique Pinon) arrives and takes a job as the building's handyman, he unknowingly steps into the butcher's trap…to serve him as the next meal!
The DVD will feature a widescreen transfer of the movie with Dolby Digital 5.1 audio. As bonus materials, expect to see a Commentary Track by director Jean-Pierre Jeunet on the disc, as well as a Behind-the-scenes Archive and Photo Gallery. Also included is a Making Of Featurette and other extras. To top it off, the DVD will be packaged in a special foil embossed packaging.
"Delicatessen" will re-appear on DVD on August 26 with a $19.98 price tag.