Half Past Dead arrives in August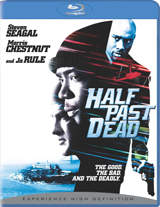 Sony Pictures Home Entertainment has added the Steven Seagal actioner Half Past Dead to their line-up on DVD and Blu-Ray for an August release.
Welcome to Alcatraz. "The Rock" has just re-opened for business, but the first criminal slated for the electric chair is also sitting on a secret worth $200 million. And an invading group of commandos (led by Morris Chestnut) isn't going to let his fortune go up in smoke. Already undercover in Alcatraz, FBI Agent Petrosevitch (Steven Seagal) has to neutralize the situation and rescue a Supreme Court Justice held hostage. Worse, he has to convince his convict "partner" (Ja Rule) and the other inmates to fight on the right side of the law.
Featuring an anamorphic widescreen transfer with Dolby Digital 5.1 audio, the DVD version will also contain a Commentary Track by writer/director Don Michael Paul as well as a selection of Deleted Scenes and the Featurette "The Making of Half Past Dead." The disc will also contain a digital copy of the movie for playback on mobile devices.
The Blu-Ray version will feature a 1080p high definition transfer complemented by a Dolby Digital 5.1 TrueHD audio track. It contains the same extras as the DVD version as well as the movie's theatrical trailer and BD Live.
It will be "Half Past Dead" on August 12 when you can buy the movie for $14.95 on DVD and $28.95 on Blu-Ray.