Genius Products changes Tai Chi Master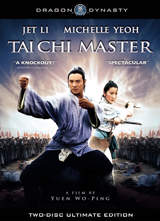 As we had reported here a little while ago, Genius Products is working on a new DVD version of the Hong Kong classic Tai Chi Master, starring Jet Li and Michelle Yeoh.
This morning we received updated information from the studio indicating that this will not be a 2-disc Ultimate Edition release as they had previously announced but instead a single-disc DVD. Also, some of the extras have been removed from the title and it seems the final version will include only a Commentary Track by Hong Kong Cinema expert Bey Logan and an Exclusive Interview with Chin Siu-Ho. Also included are the Featurettes "The Birthplace of Tai-Chi" and "Meditations on the Master" in which film director Brett Ratner and movie critic Elvis Mitchell discuss Jet Li and Michelle Yeoh.
Since the release has shrunk to a single-disc release the studio has also adjusted the price accordingly and "Tai Chi Master" will appear in stores on July 29 for $19.98.