Forbidden Kingdom enters the Blu realm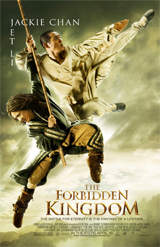 Jackie Chan and Jet Li have finally met in the form of The Forbidden Kingdom, the new film from Lionsgate Home Entertainment. The Blu-Ray Disc and DVD will arrive in September.
While hunting down bootleg kung-fu DVDs in a Chinatown pawnshop, Jason Tripitikas (Michael Angarano) makes an extraordinary discovery that sends him hurtling back in time to ancient China. There, Jason is charged with a monumental task: he must free the fabled warrior the Monkey King, who has been imprisoned by the powerful Jade Warlord. Jason is joined in his quest by wise kung fu master Lu Yan (Jackie Chan) and a band of misfit warriors including Silent Monk (Jet Li). But only by learning the true precepts of kung fu can Jason hope to succeed – and find a way to get back home.
The new 2-disc sets will include an Audio Commentary, Featurettes, Bloopers, Deleted Scenes and Pre-Visualizations. The Blu-Ray version will also contain a BonusView feature.
"The Forbidden Kingdom" is set to arrive on September 9th.