Denny Crane, back for more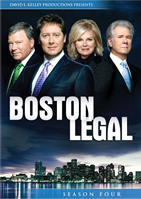 It seems Shatner has been everywhere lately promoting his new book. But if you need more of The Shat, you're in luck; Boston Legal is coming to DVD for season four in September from Twentieth Century Fox Home Entertainment.
The fourth season, which started with another cast cleansing and the introduction of John Larroquette moved the series to the ensemble cast, but eventually brought Denny and Alan to greater heights and even The Supreme Court.
The shortened season will arrive on 5 discs, and – although details aren't in yet – will likely contain a small amount of extras. The bad news? Boston Legal is a show that shines in high definition, but still no Blu-ray releases for this series. As Crane, Poole and Schmidt close their doors after the final thirteen episodes next year, perhaps the series will get an upgrade. In the mean time, season four arrives for $59.98 on September 23rd.