Bright Lights, Big City celebrates its 20th Anniversary on DVD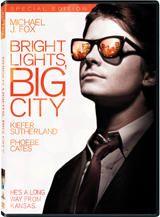 MGM Home Entertainment has included the 80's pop culture classic Bright Lights, Big City to their DVD line-up, releasing the movie in September.
Michael J. Fox plays Jamie Conway in the film, an aspiring writer who abandons the wheat fields of Kansas for the skyline of Manhattan – and the city's seductive party subculture. Hitting the clubs night after night, Jamie soon spins out of control, and he risks losing everything – and everyone – he loves. The film also stars Kiefer Sutherland, Dianne Wiest, Phoebe Cates and Swoosie Kurtz, and a memorable, pulsating 80s soundtrack from New Order, Depeche Mode and Prince.
"Bright Lights, Big City: 20th Anniversary Edition" will arrive in widescreen with 5.1 Dolby Digital audio and a good number of extras. Look for an all-new Commentary Track with author/screenwriter Jay McInerney, as well as another Commentary Track with cinematographer Gordon Willis. There will also be Two Featurettes on the disc, entitled "The Light Within" and "Big City Lights." The release is rounded out by a Photo Gallery.
"Bright Lights, Big City" comes to DVD on September 2 with a super-friendly $14.98 sticker price.