Anchor Bay lets you have it Queen Sized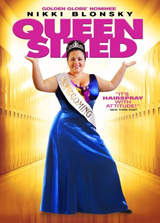 Anchor Bay Entertainment has added the film Queen Sized to their DVD line-up, prepping the disc to be released in August.
Golden Globe nominee Nikki Blonsky of "Hairspray" fame stars as overweight high school senior Maggie Baker who knows she'll never be as pretty, skinny or wealthy as the popular girls. But when a cruel prank nominates her for election as Homecoming Queen, Maggie decides to go ahead with her campaign against the advice of the school administration, her widowed mom, and the mean girls who will do anything to keep Maggie feeling like a loser.
Scheduled for a release with a widescreen transfer and Dolby Digital 5.1 audio, the disc will sadly be without any notable extras, other than a Trailer. Whatever happened to Anchor Bay's dedication to their movies?
Look for "Queen Sized" in stores on August 5 with a $19.97 suggested retail price.