Warner releases the Eastwood drama Rails & Ties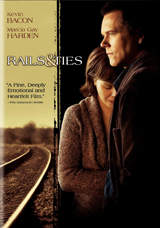 Clint Eastwood's daughter Alison has been following in her father's footsteps and after trying her hand in acting, she made her directorial debut in 2007 with Rails & ties.. The film is now coming to DVD courtesy of Warner Home Video.
Kevin Bacon and Marcia Gay Harden give soaring performances in Rails & Ties, director Alison Eastwood's moving tale of people in crisis and emotions at the brink. Bacon plays Tom Stark, a train engineer unable to face his wife's (Harden) illness. Then a terrifying railway collision leaves a little boy orphaned. Tom takes the boy into his home and – step by step, strength by strength – learns how to bond with the wife he adores by opening his heart to a boy who needs the security of a devoted family.
Featuring a widescreen presentation with Dolby Digital 5.1 audio, the DVD will also contain a selection of Additional Scenes.
"Rails & Ties" will be in stores on July 17 and can be yours for $27.95. No high definition version has been planned.