War, Inc. opens for business in July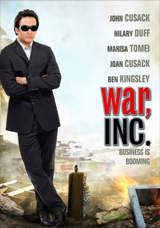 First Look Studios is releasing the independent surprise hit, War, Inc. on DVD and Blu-Ray Disc this summer.
Recreating his role as a hitman, John Cusack gives a hilarious performance in "War, Inc.", a political satire set in Turaqistan, a Country occupied by an American private corporation run by a former U.S. Vice President (Dan Aykroyd). In an effort to monopolize the opportunities the war-torn nation offers, the corporation's CEO hires Hauser (Cusack) to kill a Middle Eastern oil minister. Now, struggling with his own growing demons, the assassin must pose as the corporation's Trade Show Producer in order to pull off this latest hit, while maintaining his cover by organizing the high-profile wedding of Yonica Babyyeah (Hilary Duff), an outrageous Central Asian pop star, and keeping a sexy left-wing reporter (Marisa Tomei) in check.
Identical in features, the DVD and Blu-Ray version will feature an anamorphic widescreen transfer of the film with Dolby Digital 5.1 audio. No real extras will be included wit hthe exception of some previews on other first Look releases.
"War, Inc." will open its doors for business on July 1. Stock option can be bought for $28.98 on DVD and $34.98 on Blu-Ray.