Universal Home Entertainment unleashes Doomsday this summer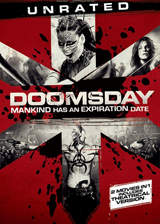 Universal Home Entertainment has just added the futuristic thriller Doomsday to their summer line-up on DVD and Blu-Ray Disc.
In "Doomsday, " authorities brutally quarantine a country as it succumbs to fear and chaos when a virus strikes. The literal walling-off works for three decades until the dreaded Reaper virus violently resurfaces in a major city.
An elite group of specialists, captained by Eden Sinclair (Rhona Mitra), is urgently dispatched into the still-quarantined country to retrieve a cure by nay means necessary. Shut off from the rest of the world, the unit must battle through a landscape that has become a waking nightmare.
The DVD version will feature an anamorphic widescreen transfer of the movie offering up both the theatrical cut and an unrated cut of the film on one disc, complemented by Dolby Digital 5.1 audio.
The release will feature a Commentary Track with actors Sean Pertwee, Darren Morfitt, Rick Warden, Les Simpson and director Neil Marshall. Also included are three Featurettes entitled "Anatomy of Catastrophe: Civilization on the Brink," "The Visual Effects and Wizardry of Doomsday," and "Devices of Death: Guns, Gadgets and Vehicles of Destruction."
The Blu-Ray version, offering a 1080p high definition transfer with DTS HD 5.1 Master Lossless Audio, will contain the same bonus materials as the DVD version. As additional, exclusive, extras this version will also include Universal's U-control Feature offering up a Picture-In-Picture video commentary, as well as Reaper Virus Files and Tech Specs about the movie.
Both version will arrive in stores on July 29 with a $29.99 suggested retail price for the DVD version and a $39.99 sticker price for the Blu-Ray Disc.